Purchase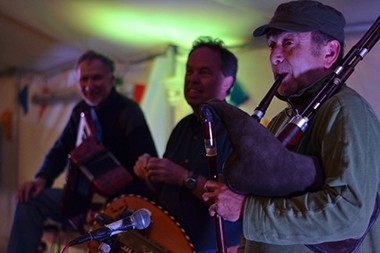 Celidh, Friday 24 Jan 2020, 18:30
- ends at 21:30
Come and celebrate Rabbie Burns. The supper will consist of 3 courses, with the traditional piping-in and addressing of the Haggis. Pendragon will supply the caller and fine music. Diners are limited to 60 so book early to ensure a place. When you book you will need to confirm your food choices.
Pendragon - A return visit of one of the region's leading traditional dance bands after a previous year's sell-out ceilidh!! Pendragon's big sound blends ancient and modern instruments (including bagpipes and hurdy-gurdy) with tunes from all over Europe and beyond to create an irresistible invitation to dance.
Whether you're a ceilidh veteran or have never danced before, this is the time to forget the credit card bill, the weather and the lack of daylight and get down to the Fisher. Full instruction in all dances – all you have to do is know your left from your right!!
Please note that Discounts / Membership Benefits will be applied once you have selected your tickets
1. Select Section
Table (Allocated Seating) - Already Started
Seats - Already Started